I recently discovered this adorable and absolutely brilliant emotional intelligence builder.  Kindness is one thing that will never be obsolete, so we need to make sure our kids have mastered the skill! You know how I am with discovering wonderful things. I just have to share! So, here is my discovery.
What is it?
Little Loving Hands has created an opportunity for your child to brighten the life of someone whose life an use some light.  Each box has a theme.  The child creates the craft inside the box, then places it in the prepaid envelope and sends it off to someone whose day is about to be made. Themes include:
The Monkey Business Box – through Operation Sock Monkey.  They'll make a silly sock monkey for kids facing "disease, disaster, and social turmoil."
The Military Gratitude Box – through A Million thanks.  They'll make a card and keychain for US troops stationed around the world.
The Happy Doll Box – through MSTERIO.  They'll make a doll and globe magnet for children "all over the world, in hospitals, orphanages, schools, and homeless shelters."
The Cloud Nine Box – Through Together Rising.  They'll make a soft cloud sensory toy and a rainbow keychain for a young mom and her baby living in temporary housing.
The Hearts for the Homeless Box – Through Enchanted Makeovers.  They'll make a soft heart pillow and a memory match game a mother and her child in a  homeless shelter.
The Puppy Love Box – Through Friends of Homeless Animals.  They'll make a fun dog leash and an adorable treat bag for a newly adopted dog.
So many cute options, and a valuable lesson to learn in spreading kindness.  I also recommend reading them Have You Filled A Bucket Today, by Sharon McCloud, to help explain why kindness is important and should be spread everyday.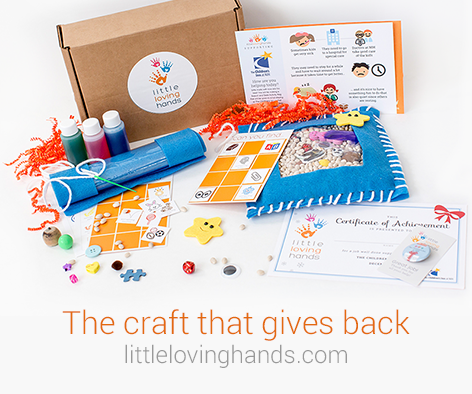 Subscribe to Miss Shannon's Cat Farm for freebies, updates, and all things parenting!